McAfee Livesafe 10 Devices 1 Year Key Global
Product features :
McAfee Livesafe is software developed with one thing in mind – keeping your devices and data safe from any threat on the internet. However, it does not only provide you with reliable internet security while browsing through the web, but also gives you the opportunity to extend that protection to other devices – all that with a single subscription!
Ultimate protection for your PCs, Macs, smartphones, and tablets
The McAfee Livesafe software features many beneficial advantages, such as a reliable, award-winning antivirus, which will ensure your safety while surfing the internet, as well as during the so-called 'offline-time'.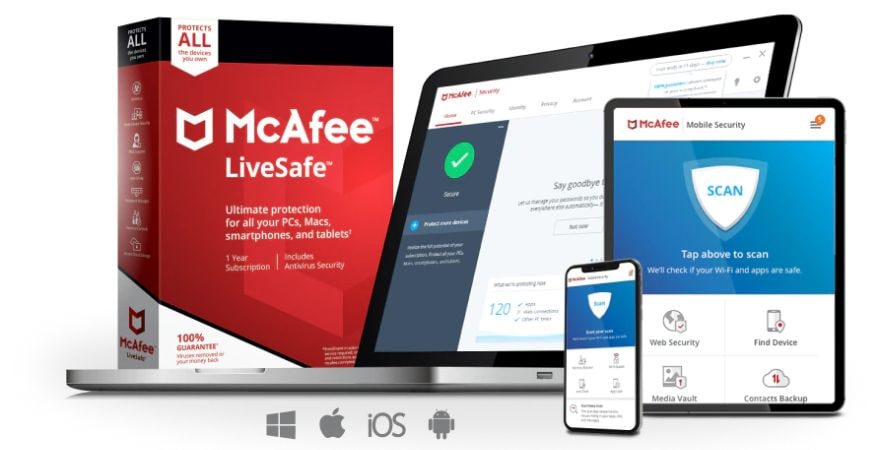 What's more, the 1-year subscription allows you to have cross-device protection on unlimited devices included in the price. That gives you the edge over any malicious software encounter on the internet and keeps your PCs, Macs, smartphones, and tablets safe from any online and offline threat.
Another great thing that any consumer who values their mobile security extremely highly is the 'On-the-go' Secure Wi-Fi feature. One of the most jeoparding threats that await anyone online, especially users who constantly are on the go, is the public Wi-Fi. Knowledgeable hackers can make a Wi-Fi source with ease with an intent to download your browsing history and possibly sensitive information, such as your bank account data or logins and passwords. With that feature included in the license for the product, you should be much safer while using any public Wi-Fi.
Key Features
One product key gives you access to ultimate protection on multiple devices, be it PC, Mac, smartphone, or tablet.
Recognizable antivirus – many people around the globe use and highly value the protection provided by this award-winning software.
'On-the-go' Secure Wi-Fi feature – prevents your browsing and sensitive data from possible hack attempts while using a public Wi-Fi connection.
Delivery
Fast delivery after purchase.
No CD / DVD
System requirements
For PC, MAC, IOS, Android
Support
We are careful about responding to all questions and inquiries as fast as possible. Please feel free to contact us anytime, and we will be happy to assist you.